N E W S and Links
The Geert Maas Sculpture Gardens and Gallery are open DAILY from 10 A.M. till 5 P.M.
"Silhouettes In Stainless Steel" including sculptures, paintings, wall sculptures and medals.
Geert Maas and his wife Elly established the internationally acclaimed Geert Maas Sculpture Gardens and Gallery in the early 1980s in Kelowna featuring one of the largest collections of bronze sculptures in Canada. His work is represented in collections in 34 countries.
YMCA-YWCA Sculptural Donor Structure:
Geert Maas has created a commissioned sculptural donor structure to recognize donors to the Kelowna YMCA-YWCA Capital Expansion Campaign. The monument located in the main lobby of the Kelowna Family YMCA-YWCA in the Rutland neighbourhood was unveiled on September 7 together with the expanded facility. Total height of this stainless steel artwork is 3.66 m. (12 ft). The sculptural structure has been decorated with mirror finished stainless steel imagery of running youth and faces as well as the logos and core values of the Y: Caring, Honesty, Respect, and Responsibility. Four panels that are part of the monument have given ample space for the extensive engravings.
MADD Monument:
A sculpture in stainless steel and bronze commissioned by MADD Canada - Mothers Against Drunk Driving has been installed. The Monument dedicated to leaving a legacy to victims of impaired driving, and to educating the public about the dangers of impaired driving is located in Central Park, Burnaby, B.C., intersection Kingsway, and Boundary Road, Vancouver.
In March 2010, Geert was the recipient of the Lifetime Achievement Award during the annual Okanagan Arts Awards. He was selected from six nominees in that category.
Bronze medallions of the SPIRIT OF KELOWNA community public art project have been permanently installed in two special earth rammed walls in the entrance foyer of Kelowna City Hall involving hundreds of residents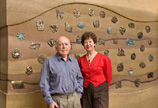 Elly and Geert Maas in front of the medals wall in Kelowna City Hall
Photo albums about this commission can be viewed at Geert Maas Sculpture Gardens and Gallery.

A Monograph entitled The Spirit of Kelowna - A Celebration of Art & Community a full-colour 128 page book, was published by Okanagan Institute to showcase the medals, and the spirit and history of the project. It offers a philosophical context for considering art in community, presents artists' thoughts on their experiences, and each medallion is faithfully photographed by well-regarded art photographer Yuri Akuney.
Please call, or visit us for lasting gifts for special occasions. Gift Certificates, and easy Payment Plans are offered as many of the artist's works are available for purchase.
We highly appreciate your comments, and please feel free to contact us if you would like to have further information, or receive our brochure.
L I N K S
Geert Maas Medals at Medals4Trade

Updated August 2018 © Copyright 1997-2018 Geert Maas & Geert Maas Sculpture Gardens and Gallery Inc.