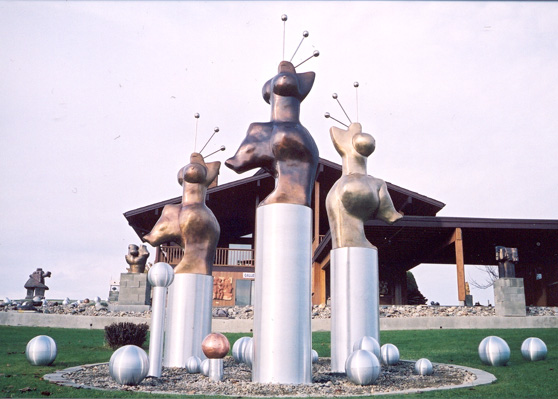 "Goddesses of the Universe"
A multimedia installation


Specifications:
Materials: Bronze, Stainless Steel, Aluminum, Copper, and Gravel.
Height: 4.25 meter (14 feet)
Overall Area: 7.5 x 7.5 meter - 25 x 25 feet.
Overall Weight: Approximately 3 tons

Goddesses of the Universe is a celebration of life and the female expressing jubilance and inspiration.


The spheres in aluminum and copper positioned at different levels symbolize planets. Towering above these spheres are the monumental sculptures of cast bronze with various patinas adorned by stainless steel head decorations sitting atop brushed aluminum pillars of different heights.







©Copyright 1997-2017 Geert Maas & Geert Maas Sculpture Gardens and Gallery Inc.